The Coherency is a place to come together in one unified body. This is an area to plan, envision, socialize, dine, work, strategize, but most of all to connect. Meet around the rustic but elegant conference table.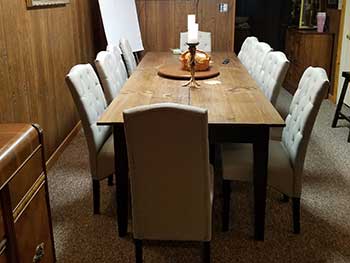 Connect, Unite, Gather
Play games at the round barrel table.
Recline by the gas log stove.
Delight in playing the organ or guitar.
Share a bag of popcorn from the old-fashioned pop-corn popper.
Sip a cup of brewed coffee from the coffee and tea bar.
Whip up a snack in the efficiency kitchen.
Enjoy the outdoor firepit.
Plan an outdoor game such as horse shoes and corn hole.