Whether you choose to gaze for miles at the beautiful Allegheny Mountains or close your eyes to the warmth of the giant stone fireplace, The Relaxation offers freedom from tension and anxiety. The comfort and quiet of The Cabin Retreat will envelope your soul. Here you will feel closer to God.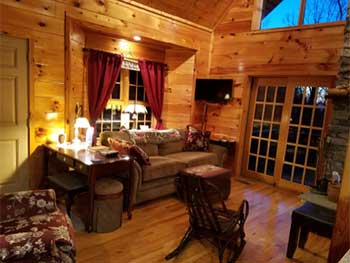 Relax, Renew, Restore
Enjoy a romantic candlelit dinner for two by the fire.
Roast marshmallows or pop popcorn in the giant fireplace with friends.
Rock away your worries in the cozy surroundings.
Step out onto the wrap around deck and watch for wildlife.
Sink into the porch swing on the covered porch.
Hear the soft rustle of the trees.
Take deep breaths of the cool mountain air.
Gaze at the stars through a telescope.
Meditate and/or pray in peaceful surroundings.
Gaze at the stars through a telescope.
Enjoy the massage chair with your choice of aromatherapy.
Pamper your feet in the warm foot massager while playing games at wizardslots.
Soak in the jacuzzi tub while listening to softmusic.
Read a book from the library.
Fold yourself in a luxury bathrobe.
Sink into a pillow-top mattress.
Open the windows and listen to the night sounds.
Drift off to a peaceful rest.